About Tadahiro Ono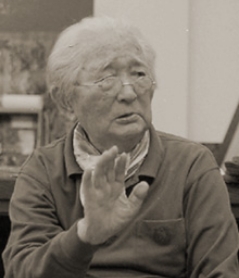 Modern artist Tadahiro Ono was born in Hirosaki City, Aomori and spent most of his life in Mikuni.
He used his genius sensibilities to create mostly junk art and left behind many works. He also engaged in passionate training and development activities as an art teacher at Mikuni High School, producing many outstanding artists.
Biography
Born in Hirosaki City, Aomori.
Enters Sculpture Department of Tokyo University of the Arts. Makes acquaintance of Seiji Chokai.
Settles in Mikuni and becomes art teacher at Mikuni High School.
Begins communicating with poet Tatsuji Miyoshi, who had evacuated to Mikuni.
Enters "Unknown Political Prisoner " at international sculpture competition organized by Tate Modern, and becomes first Japanese artist to receive honorable mention. Has collection put on exhibit at Tate Gallery.
Piece is exhibited at Contemporary World Art (Bridgestone Museum of Art), curated by Michel Tapié of France, who praises it as world-class.
Receives New Artist Award for "Muchin no Y " at "57 New Artists of Today " (organized by Asahi Shimbun).
Holds several solo exhibitions at Minami Gallery in Tokyo. (-1962)
Work is exhibited at 5th Sao Paulo Biennial Exhibits from Japan "Antiproton" is introduced in American magazine LIFE, and Ono is selected as one of seven names in world of junk art, increasing his international renown and putting him on global stage.
Work is exhibited at 30th Venice Biennale.
Forms Contemporary Sculpture Group with Kakuzo Tatehata, Shusaku Arakawa, Morio Shinoda, Katsuhiro Yamaguchi, Saburo Muraoka, Hisashi Konno, Ryokichi Mukai, Bushiro Mouri, and others. Later holds several solo exhibitions at Tokyo Central Museum of Art, Tokiwa Gallery, and other locations.
Passes away at his atelier in Mikuni in August.
Facility Information
Gallery
The mysterious and small gallery, "BLUE CAKE," sits atop a hill overlooking the sea. Ono chose this location for his atelier, and the entire building is covered in tile that is cobalt blue, his favorite color. The large windows let in natural light and have pink-gold sashes. They are always open, and the soft light of Mikuni enters radiantly.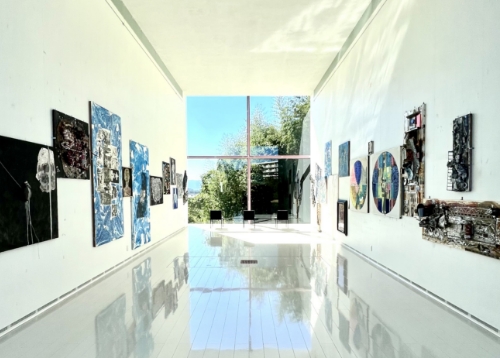 Former Residence
Ono retired from Mikuni High School in 1973. He found a site with exposed andesite in a field behind Takidan-ji Temple. He moved an old storehouse from the city there to make it his home. It located on a hill overlooking Mikuni Port with a view of the Sea of Japan in the distance. The residence is one of his works of art, featuring ideas that reflect his reverence for ancient times.